Do you love Acadia National Park's lakes, ponds, and streams? Share your thoughts in this survey from the University of Maine, part of Second Century Stewardship Fellow Kate Ruskin's study to characterize how visitors, students, local residents, natural resource managers, educators, and others perceive and value Acadia's freshwater resources.
Ruskin planned to interview people in the park this season, but switched to an online survey because of COVID-19 health precautions. To promote the survey, Ruskin made signs with the survey link and employed Andrea Knapp, a third-year student at UMaine majoring in Ecology and Environmental Sciences, to place them at selected locations. Knapp, who is familiar with Acadia's watersheds through her work as an Acadia Summit Steward, has been displaying the survey signs at Hulls Cove Visitor Center and Sand Beach.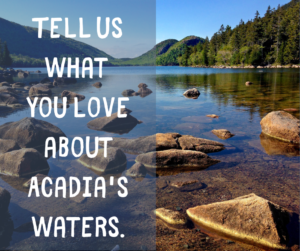 The survey is voluntary, anonymous and will take 5-7 minutes to complete. "The responses will help us understand what makes Acadia's freshwater treasures so special," said Ruskin.
Questions about the survey can be directed to Dominique DiSpirito, another UMaine student working on the project.
Take the survey